NEWS
Completion of the second phase of the Enterprise in WASH project
June 2018 marked the end of the second phase of the Enterprise in WASH research initiative. The objective of this research was to support civil society organisations (CSOs), governments and other development actors to improve their engagement with water and sanitation private and social enterprises, with a focus on the poor. This second phase of Enterprise in WASH (2016-2018) focussed on addressing key research gaps identified during the first phase (2012-2016) which were deemed important for improving inclusive, sustainable WASH services run by enterprises. The final research outputs include research reports, summary briefs and conference presentations on the three central areas of research covered in the second phase:
To test the long-term viability and sustainability of the private enterprise model of service provision by examining life-cycle cost structures for private water enterprises in Viet Nam
To investigate gender and women's empowerment in WASH enterprises in Cambodia and Indonesia
To understand the potential role of intermediary level organisations (associations and/or business development support) in strengthening enterprise development and expand service delivery models in Cambodia and Indonesia.
The research outputs can be accessed here. We will continue to work with our partners to disseminate these outputs in meaningful and impactful ways, to maximise knowledge of and uptake of research findings and recommendations.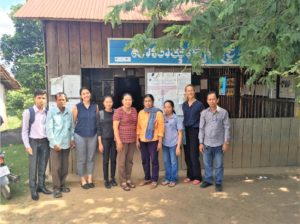 Interviews with women involved in WASH-related businesses
Researchers and staff from East Meets West Foundation in Cambodia and the Cambodian Water Association have completed interviewing 30 stakeholders involved in provision of small-scale privately owned piped water systems (enterprises) in Cambodia. The fifteen enterprise owners and operators were women, and their views on challenges and opportunities related to their water supply business were sought, as well as how NGOs/donors and government could assist them to manage sustainable water enterprises. Under the same project, researchers from Universitas Gadjah Mada (UGM) have completed interviews with women involved in WASH-related businesses in Sumatra, Java and eastern Indonesia. Analysis is underway to understand both their motivations and how women are supported and constrained by their family and social environments to take part in such activities.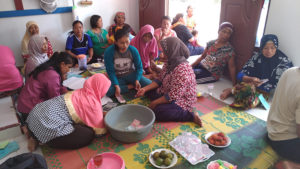 Interviews
In Indonesia, district associations of rural water-supply community-based organisations (CBOs) are being formed in many locations to facilitate engagement between the many CBOs (often up to 100 or more in a single district) and local government. In November and December the ISF team and researchers from Centre for Regulation, Policy and Governance, Universitas Ibn Khaldun Bogor (CRPG) interviewed 10 better-performing district associations of CBOs across Sumatra, Java, Sulawesi and Kalimantan. Interviews were also conducted with local government officials in each location. Analysis is underway and will be used to inform strategies to support effective district associations, including recommendations for the large-scale Government of Indonesia and World Bank PAMSIMAS rural water supply and sanitation program.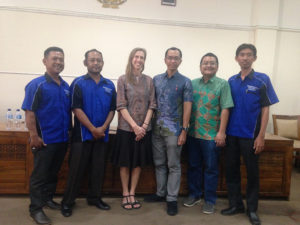 Examining the role of enterprise in rural water supply sustainability in Cambodia
ISF has commenced a new research initiative looking at the role of enterprise in strengthening rural water service delivery in Cambodia. The initial phase of the project will appraise how local private sector actors are supporting service delivery in Kampot Province, and the opportunities and challenges they face in doing so. The work will specifically focus on handpump water supplies, with enterprise playing a central role in provision of maintenance services, both in terms of the supply of hardware (e.g. selling spare parts) and technical skills to ensure breakdowns are promptly repaired. Over the next 18 months a range of research methods will be employed, including in-depth interviews with service providers and water users as well as comprehensive water point functionality assessments. Government and civil society organisations are key project partners, collaborating on both the research design and implementation.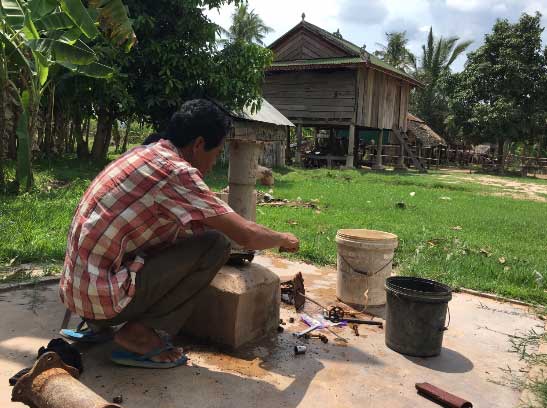 Researching business support services for sanitation enterprises in Cambodia, February 2017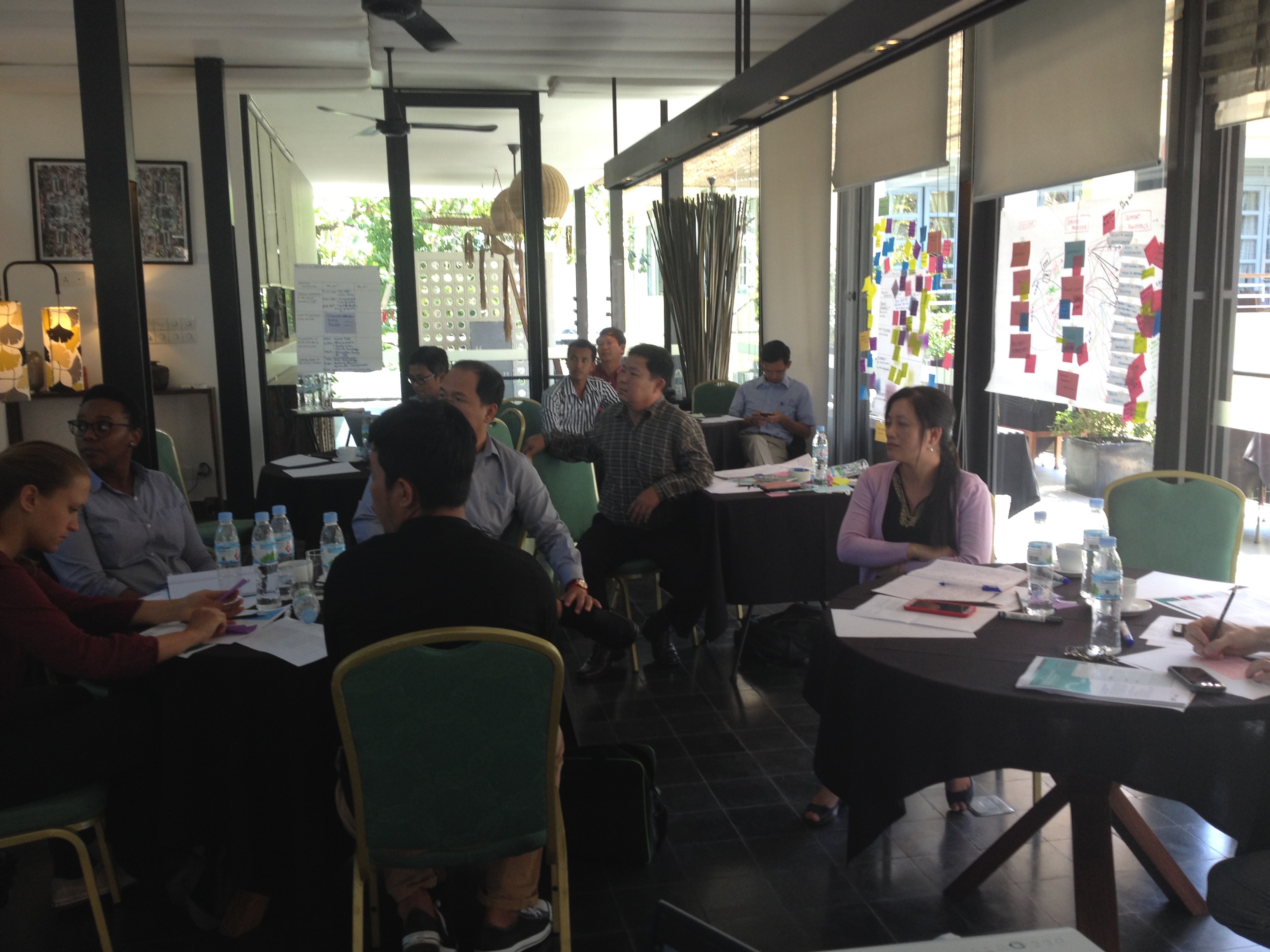 We have entered the second phase of Enterprise in WASH and earlier in the year in February, the team went to Cambodia for  research focused on business support mechanisms for sanitation enterprises in Cambodia. This included a one-day workshop and interviews with multiple stakeholders (development agencies, government and sanitation enterprises).
Phase one of 'Enterprise in WASH' research demonstrated both the potential and criticality of intermediate level support organisations or functions to water and sanitation enterprises. However, where they existed, such organisations were found often to be fragile, with limited potential for sustainability without strengthened business models. In Cambodia there have been ongoing sector discussions on intermediary level support to facilitate the participation of entrepreneurs in sanitation service provision and build their capacity. However, shared understanding and consensus has not been reached within the sector regarding appropriate ways to provide such support. This research aims to contribute to building shared understanding of the spectrum of possible mechanisms and models for providing this support as well the key principles by which such support should be provided.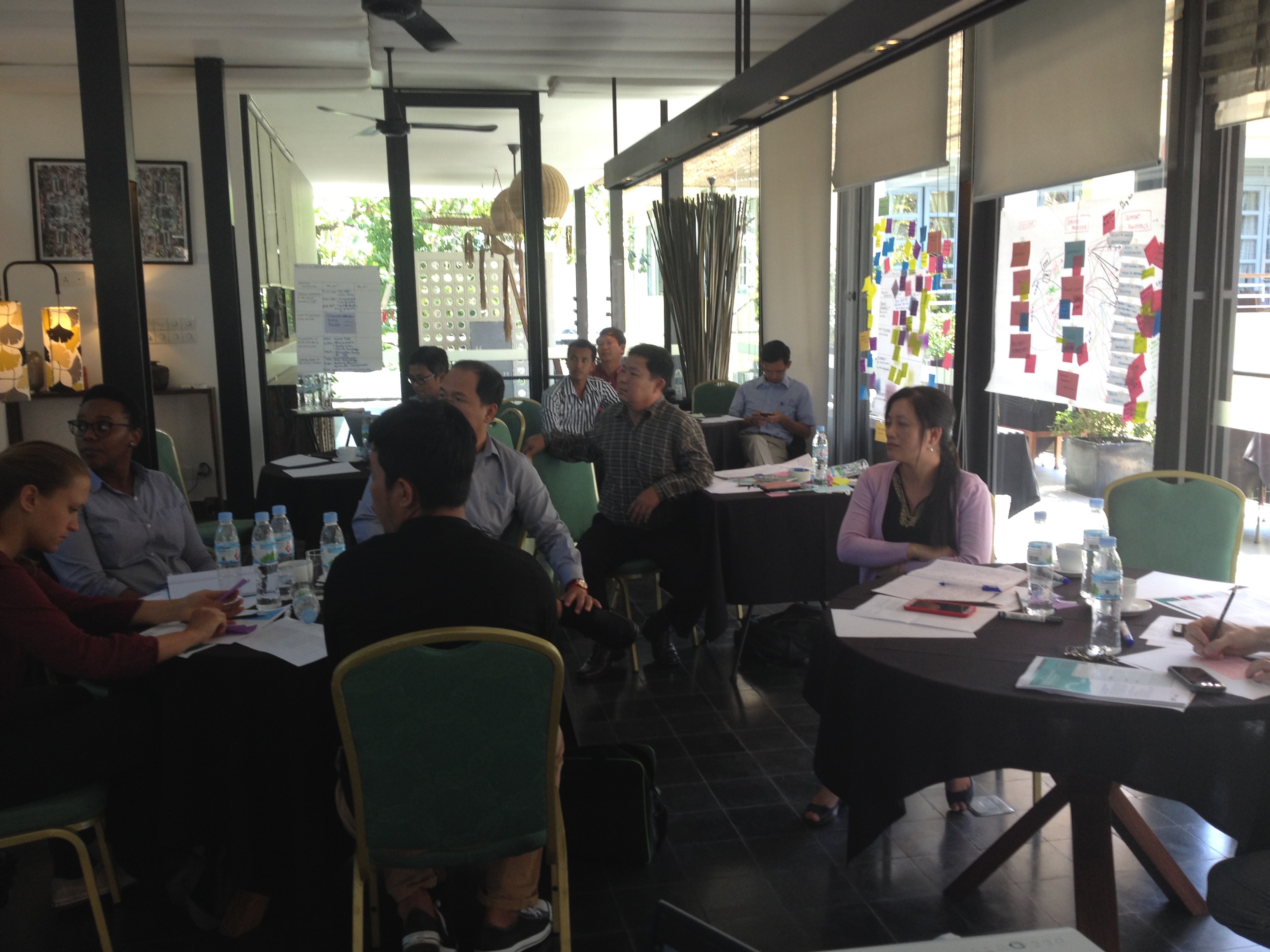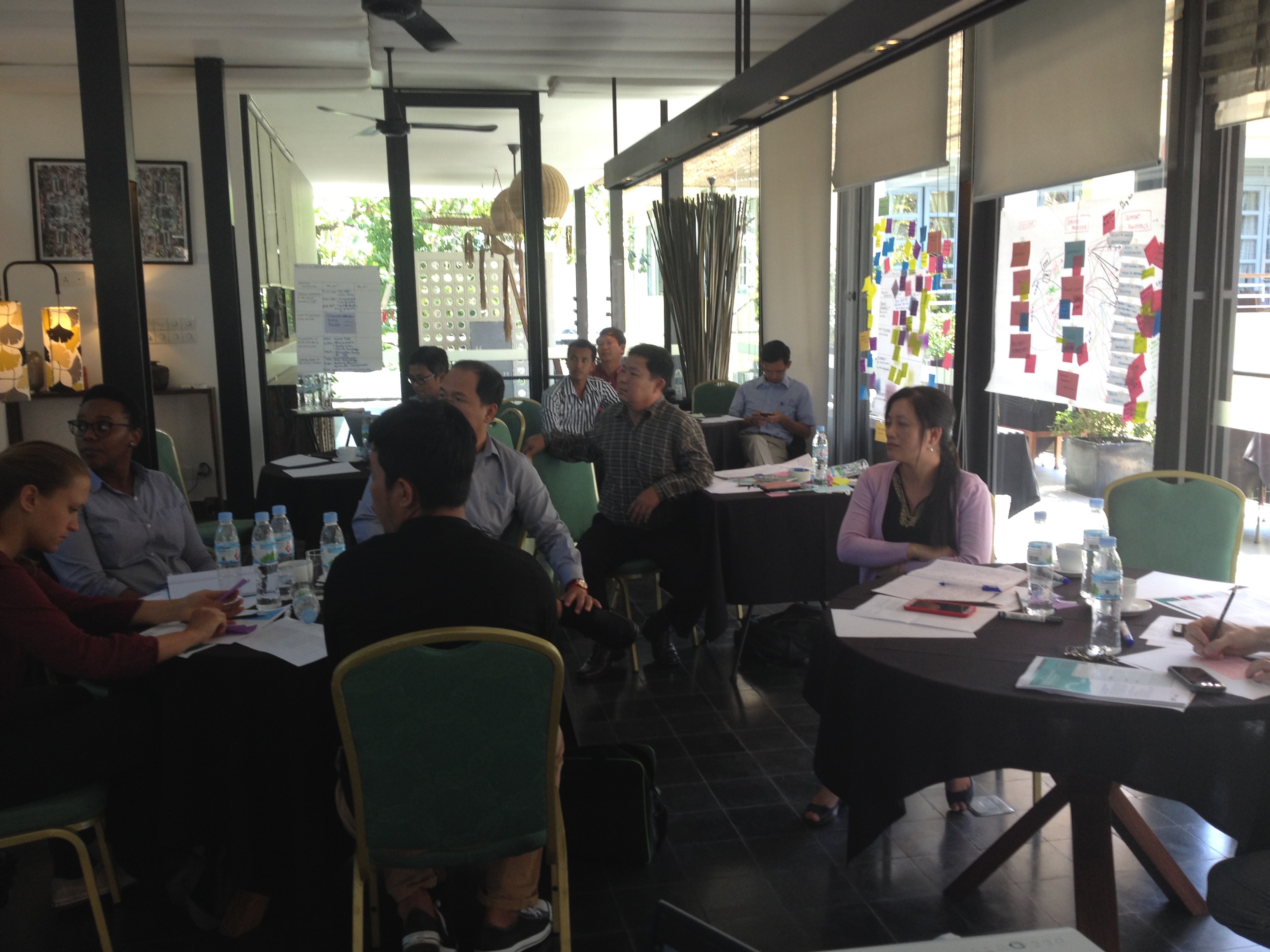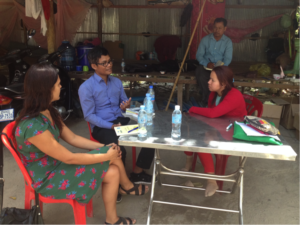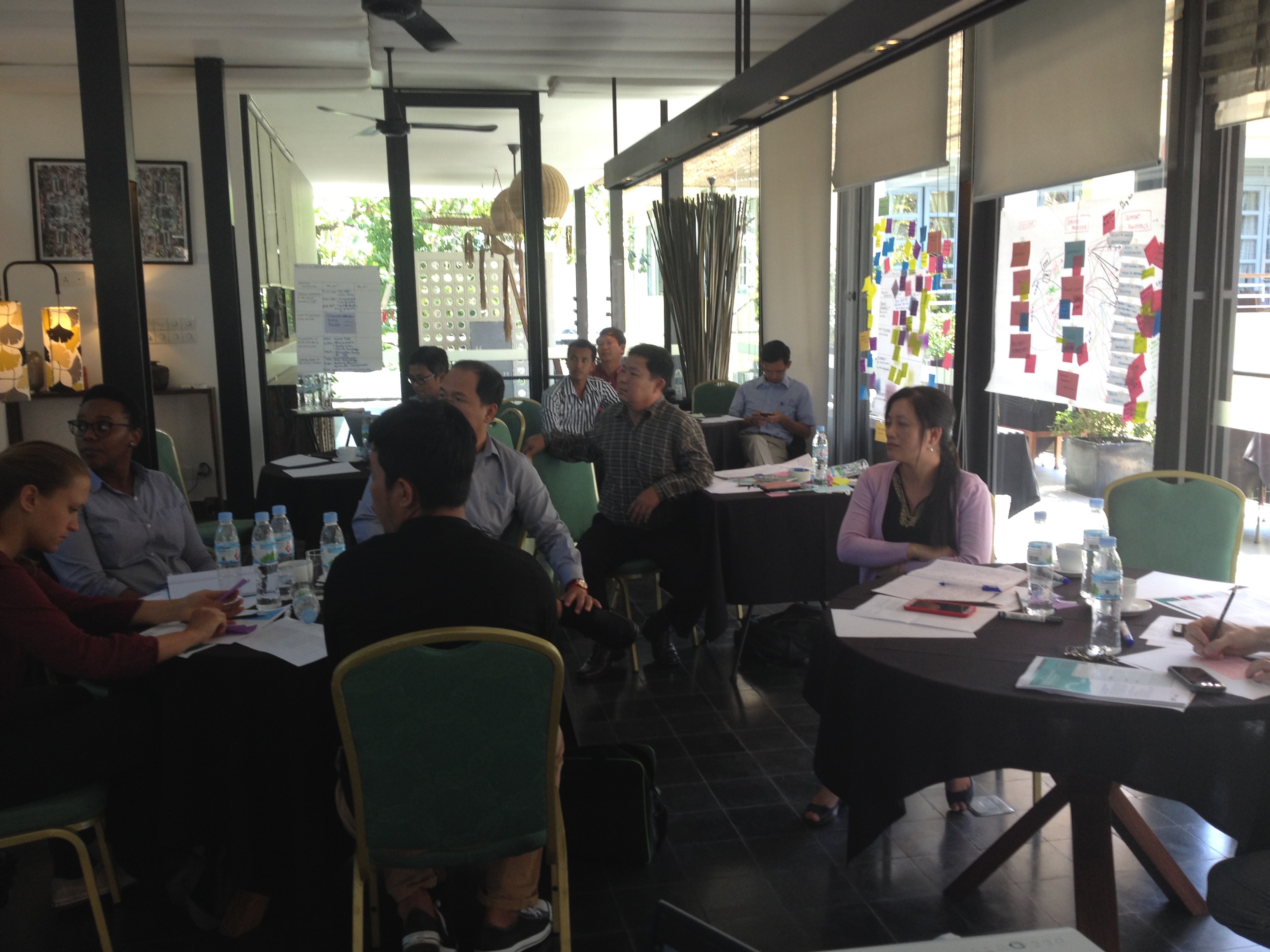 Enterprise in WASH featured at the CS WASH Fund East Asia Regional Learning Event, 12-15 July 2016, Hanoi, Vietnam
The East Asia Regional Learning Event (EARLE) was a four-day program focused on the theme of 'Bridging private and public spheres for improved sanitation'.
Drawing on Enterprise in WASH experience, Professor Juliet Willetts, who co-facilitated the event, delivered a keynote address on 'Market-based sanitation approaches in South-East Asia' and a presentation on 'sanitation and the private sector'.
The event gathered over 85 participants from Cambodia, Indonesia, Laos, Myanmar, Timor-Leste and Vietnam where
 CS WASH Fund Projects are being implemented. Lessons and reflections from the event have been captured in the Synthesis Report and learning briefs: 'Financing sanitation' and 'Engaging government in market-based sanitation'.
As part of the lead-up to this event, Professor Juliet Willetts also facilitated an e-discussion and a webinar. The e-discussion which took over three weeks during April and May 2016, explored the roles that CSOs are playing in facilitating sanitation markets, access to financing and the roles of both the private and public sectors. The webinar built on the conversation started in the e-discussion and addressed the question of 'How can CSOs also work with local government or other local actors to facilitate market-based approaches?'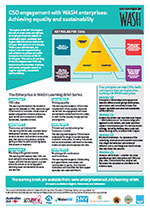 Learning and Policy Briefs are now available
A series of six Enterprise in WASH Learning Briefs and four Policy Briefs are now available on the website in the research outputs section. They are available in English, Indonesian and Vietnamese. A huge thanks to all partners who provided input into the development of these briefs which are drawn from three years of research conducted with Enterprise in WASH partners. The learning briefs are written specifically for civil society organisations (non-government organisations) working with water and sanitation enterprises.
The series of 6 learning briefs cover the following topics:
Learning brief 1: CSO roles
Learning brief 2: Know your private sector
Learning brief 3: Working with governments
Learning brief 4: Driving equality
Learning brief 5: Private and social enterprise business models
Learning brief 6: Working with motivations and incentives
If you would like some printed copies of these briefs and the A3 poster, please email Melita  – melita.grant@uts.edu.au
Enterprise in WASH featured at the WASH Futures 2016 conference, May 2016
Our project featured at the WASH Futures conference through a training session and a presentation.
The training session titled 'Private Sector and Marketing Exchange Approaches for Equitable WASH Outcomes' was designed and delivered in collaboration with Monash University, International WaterCentre, The University of North Carolina, and iDE. This drew on research conducted by each organisation and included findings from different stages of our project.
The presentation titled 'Are Poor Households Connecting? Private Water Enterprises in Rural Vietnam' drew on findings from the third stage of our research. This questioned what private sector involvement means for equitable service delivery, and to identify mechanisms to ensure poor and disadvantaged groups are reached.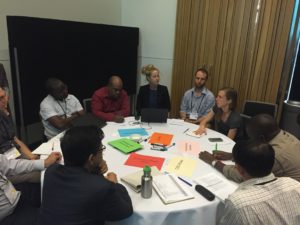 Developing guidance materials for CSOs (Feb – Jun 2016)
In February 2016 we entered the translation phase of our project, where we have been turning our research findings into meaningful guidance material for CSOs, including six guidance notes, a policy briefing, a video and a poster.
The guidance notes are currently being reviewed by the Project CSO partners. These provide principles, processes, examples, and triggering questions aimed at assisting CSOs to identify appropriate roles and strategies for enterprise engagement in WASH, and cover the following topics:
CSO roles
Know your private sector
Business models
Working with government
Driving equality in water and sanitation services delivered by enterprises
Working with incentives
The format and design of these guidance materials has been informed by a survey targeted at CSOs about their preferred formats of communication we ran earlier in the year.
We are really looking forward to receiving the partners' inputs and feedback to take these materials to the "next level" of relevance and usability for CSOs.
National Workshop on Management of Rural Water Supply Systems and the role of the private sector (November 2015)
"It is very important research… so you should use it in your policies and actions at local level. I very much agree all findings and the recommendations of this research" The Ministry for Agriculture and Rural Development Vice Minister Hoàng Văn Thắng, Viet Nam.
In November 2015, Dr. Juliet Willetts, Dr. Đoàn Thế Lợi (IWEM) Per Ljung (EMWF) delivered key recommendations for policy development and implementation concerning Decree 15 in the rural water sector, to ensure effective and equitable service provision in the long-term. These recommendations were based on research examining the policy and regulatory environment in targeted provinces, and comparison of the operation, customer satisfaction and equity outcomes of private enterprises compared with other management models (which include cooperative, commune people's committee, state-owner enterprises and community). The workshop attracted representatives from all 63 provinces in Viet Nam, including approximately 300 Government representatives. The workshop was combined with a closing workshop for National Target Program (NTP) and was opened by Hugh Borrowman, former Ambassador to Vietnam. It also included presentations from private sector companies managing rural water supply systems and members of provincial government. The workshop was designed to:
Promote stakeholder engagement with the findings of joint ISF-UTS, IWEM,   EMWF, CRES-VNU research with government and sector stakeholders; and
Consider and discuss implications of the research findings for rural water supply tariffs, incentives and regulation in the context of the Rural Development Program which will replace the National Target Program in supporting improvements in access to rural water supply.
The workshop resulted in a recommendation that a Taskforce was required to advance the recommendations made in the Policy Report.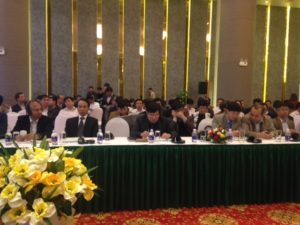 Enterprise in WASH: In-country research, August 2015
The team recently returned from Vietnam where data was collected for Targeted Study 3, which aims to address a knowledge gap concerning equity outcomes of enterprise engagement in water services. In particular, the research examined equity outcomes for private enterprises and for other management models in place for rural water supply in in Vietnam.
Researchers collected data which will help to determine the extent to which poor people in the case study sites are excluded, or not, from connecting to piped systems provided by a range of service provider types including small scale water entrepreneurs. Interviews were held with Commune Leaders, water service providers and low-income householders. The research took place in three communes in northern Vietnam, and three communes in southern Vietnam. In addition to collecting data on water connections and supply sources, the team is doing spatial GIS analysis to explore any relationship between the locations of water services and low-income households.   Findings from this research will inform governments and service providers about how to best ensure equity outcomes in water service delivery.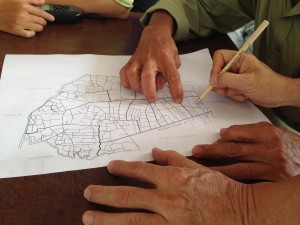 Enterprise in WASH featured at WEDC International Conference (July 2015) and Stockholm World Water Week (August 2015)
Juliet Willetts presented at the WEDC International on the 'political economy influences on enterprise engagement in Indonesia, Vietnam and Timor-Leste'. The paper and presentation for this conference drew on findings from the second stage of our research.
Our project also featured at the 2015 Stockholm World Water Week where we presented on a combination of findings across different stages of our research, reflecting on perspectives of small-scale water enterprises, their motivations, drivers and barriers. See the presentation here.