ENTERPRISE IN WASH
"Enterprise in WASH" is a 3-year research study, running from 2013-2016. The research investigates the role of micro, small and medium enterprises, who are emerging as important players in sustainable water, sanitation and hygiene (WASH) service delivery for the poor.
In recent years, civil society organisations (CSOs), amongst others, have been working with private and social enterprise to build 'professionalisation' of service delivery, moving beyond voluntary, solely community-focused approaches, and towards developing much needed supply chains.
To support this work, there is a need for new thinking and evidence on private and social enterprise involvement in WASH for the poor. "Enterprise in WASH" investigates how CSOs can best work at the interface of private, civil society and public sectors to support equitable, sustainable service delivery in challenging contexts.
This research is led by the Institute for Sustainable Futures at the University of Technology, Sydney and supported by the Australian Government's Australian Development Research Awards Scheme (ADRAS) through the Australian Civil Society WASH Fund (2013-2016).
The research is focused in Indonesia, Vietnam and Timor- Leste and has both CSO and university partners (see below for details).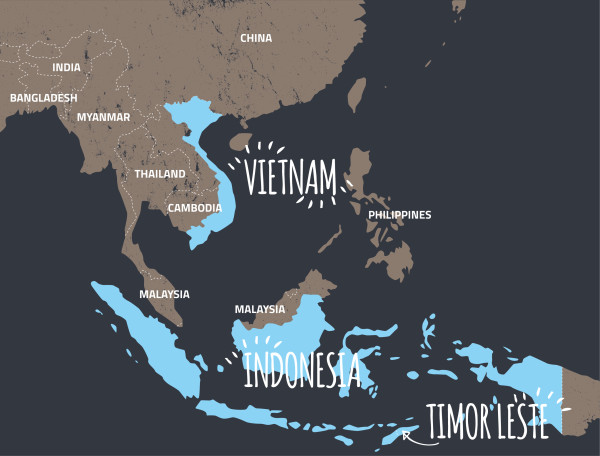 What will the research achieve?
The research will improve the evidence base on the role of private and social enterprise in WASH service delivery for the poor. Additional outcomes include objectives to:
Contribute to improvements in the quality and impact of CSO work that engages private and social enterprise
Provide insight into viable WASH business models and interventions, as well as interventions to overcome market failure in the challenging contexts in which CSOs work
Provide guidance on how equitable outcomes—including gender equity—are best supported, including the skills and roles required by CSOs working in this realm
Provide essential information for policymakers in the three case study countries on relevant public sector support and regulatory roles
How will the research be undertaken?
The research will be undertaken in four stages:
Stage 1: Systematic review of academic and grey literature of private enterprise in WASH
Stage 2: Political economy analysis to examine the incentives shaping private and social enterprise engagement in WASH (Indonesia, Vietnam, and Timor-Leste)
Stage 3: Targeted studies on key gaps in the evidence base:
Value chain analysis in low-density settings – looking at viability of market based solutions for sanitation products in low-density areas (Indonesia and Vietnam)
Motivators, drivers and barriers to entry – identifying what motivates private sector actors' involvement in WASH service provision for the poor (Indonesia, Vietnam, and Timor-Leste)
Viability and equity outcomes of private water operators – analysis of viability, quality and equity outcomes of private enterprises in Vietnam
Stage 4: Practical guidance material in accessible formats for wider audiences, including civil society actors, policy makers and donors, providing principles and processes for effective engagement with private and social enterprise
Who is undertaking the research?
The Institute for Sustainable Futures – a research and consulting organisation within the University of Technology, Sydney (UTS) with strong expertise in WASH – is leading this collaborative research project with both CSOs and university partners.
CSO partners include:
Plan International (in Indonesia)
SNV Netherlands Development Organisation (in Vietnam)
East Meets West Foundation (EMWF) (in Vietnam)
WaterAid (in Timor-Leste)
University partners include:
Universitas Gadjah Mada (UGM) in Yogyakarta, Indonesia
National University of Timor-Leste (UNTL, in Dili)
Centre for Natural Resources and Environmental Studies (CRES) at Vietnam National University in Hanoi
The Overseas Development Institute (ODI) – a leading independent think tank on development issues – is also a partner providing input and peer review of aspects of the research.
The research will work closely with partner CSOs as well as others involved in the Australian Civil Society WASH Fund through the Fund's communication, learning and engagement activities. Research findings will inform activities undertaken through the Fund as well as ongoing initiatives.